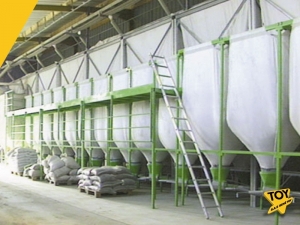 | | |
| --- | --- |
| Zoom | La SAS TOY crée des équipements de toutes dimensions dans de nombreux pays |
René TOY Process, machines, installations pour l'agriculture, l'élevage, l'industrie
Since 1950 the company Rene TOY has been building the high-performance materials for animal food processing. It's very important for us to always bring you "The solution" according to yours expectations concerning quality and budget. Here you will find most efficiency installations for producing 500 kg to 20 tones / hour and more.

Leader in Food manufacturing field (dosing, grinding, and mixing) we provide the best solutions, with pneumatic or mechanic handling. We guarantee turn-key, solid and lasting equipments with personalized follow up.

Our experience in Food manufacturing over many countries as Tunes, Algeria, Morocco, Sudan, Kazakhstan, Rumania, Russia, Ukraine, Moldavia, Poland, Ivory Coast, Mauritania, Senegal, Ethiopia, Chile, Cuba, China… in all type of farm will insure an optimal profitability for all your productions units (software translated in your language), reliable and fast. Ours partnerships presents in each of these Countries, will attend you in the achievement of yours projects. With TOY's Equipments, your investments will profit quickly and for a long time.
TOY, the solutions that are your benefit !