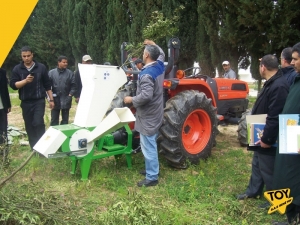 | | |
| --- | --- |
| Zoom | Motoculture selon TOY : solidité, efficacité, sécurité ! |
Demonstration of the crusher "Broiter"
The SAS Rene TOY, since 1950 there is 60 years of manufacture, progress and inventiveness for Motorized Agriculture.

Rene TOY is a large range of vegetable and green waste grinder, log saw, elevator belt an handling. All ours machines are conceived for heat energy, electric, or force socket feeding. The quality of our fabrications, insure you the powerful machines adapted for your needs.

You'll have innovative solutions that will provide you with cost-effective products and increase productivity. Besides, for works that can be dangerous, our material is always conform to the current norms and regulations, paying special attention to safety and the most demanding certification.
TOY, the solutions that are your benefit !