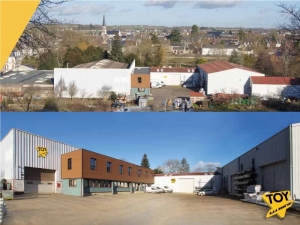 | | |
| --- | --- |
| Zoom | René TOY, spécialiste multi process, machines et installations pour l'agriculture, l'élevage, l'industrie. Notre site de Montoire sur le Loir (France - 41) |
René TOY Process, machines, installations pour l'agriculture, l'élevage, l'industrie
Since almost 60 years, our company René TOY had begun developing, manufacturing and setting up the innovative solutions for feeding, animal food, agricultural field, Industry, Motorized agriculture and processing of green waste.

Rene TOY is a well known specialist in the field of storage, handling, grinding, flattening, mixing, distribution, Food manufacture and granulation. Our products, our solutions and our installations are constantly improved searching efficiency and profitability by our research department always worrying about our customers needs.

Holding many patents for the innovative systems, the company TOY turns towards user. Our wish is always to make you benefit the best of technical for your productivity, profitability, quality of your productions, working comfort for you and your staff...
TOY, the solutions that are your benefit !