Industrial Transport TOY Group
TOY Group offers its mechanical and pneumatic transport solutions
Transport Distribution TOY Group
TOY Group inflatable and mechanical transport
TOY Group offers its mechanical and pneumatic transport/distribution solutions, from the design, supply and installation of your equipment and all the automation necessary for your production. Check out your technical sales industry TOY Group. Download the brochure: TOY Group Solutions Industries
Inflatable transport solution
A FLEXIBLE AND HIGHLY ADAPTABLE SYSTEM. WITH SPEEDS OF 600 TO 1200 KG/HOUR OR 3 T/HOUR (DEPENDING ON INSTALLATION AND CONFIGURATION). THE PNEUMATIC DISTRIBUTION IS DONE BY GROUP OF POSITIONS OR INDIVIDUAL POSITIONS. Without THE CROSS BETWEEN THE DIFFERENT MELANGES AND NOT OF MATTERING (WEIGHED QUANTITY – QUANTITY delivered). TRANSPORT DISTANCE (HORIZONTAL) UP TO 250 METRES.
General features
TOY Group's pneumatic composition distribution facility.
Flow from 600 to 1200 kgs/hour and 3 tons / Time
60 mm galvanized diameter back-up pipe
Blower 2 models: (SCL50 SH MOR: 4 kW – maximum push-back distance 100 meters) maximum pressure 300 Mb – flow 156 M3 / (SCL65 DH MOR: 4 kw – maximum push-back distance 150 meters) pressure at 300 Mb – flow 156 m3 / maximum pressure 550 Mb – flow 78 m3
Calculation method: refoulement distances are given in horizontal length / 1lock – 10 meters /horizontal
1 curve – 4 metres /horizontal / 1 m vertical – 2 meters /horizontal
Opportunity to resume: under silo, under hopper, under blender, etc.
Benefits of pneumatic distribution
Flow from 600 to 1200 kgs/hour and 3 tons / Time
Distribution by job groups or individual positions
Weigh mixer
No cross between different mixtures
Drained 60mm piping between distributions
Weighing quantity – Quantity delivered
Automation system
Distribution distance 250 Meters (maxi)
Electrical power from 5.5 to 11 kW
The principle of pneumatic
distribution.
The TOY Group's pneumatic distribution prevents any deshuffling during transport to storage. The cyclone and other elements of the pneumatic circuit (anti-blending pipe..) retain all their homogeneity to the mixtures transported.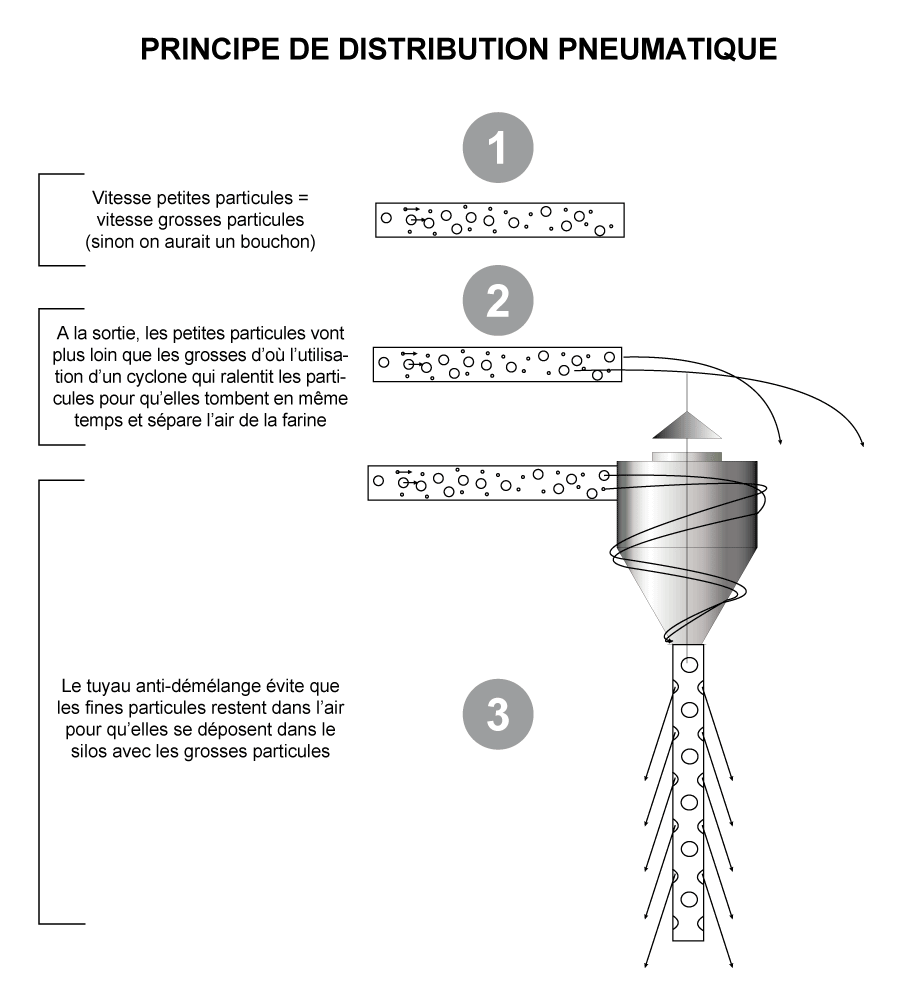 Mechanical transport solution
Made by flexible screw, allows to adapt to all buildings, for a simple and economical distribution. The flexible TOY screws, have a high-quality treated steel spire, or stainless steel. The section and step are specifically calculated for a better solidity/flow ratio. White PVC or galvanized steel piping is available in diameter 60 and 90mm.
Flexible screws:
Make it possible to make a circuit
a curve at 90 degrees or two curves at 45 degrees,
Can be serialled to lengthen the circuit with a box relay.
Steel or PVC tubes (delivered in 6m bars) are assembled by stainess steel cuffs.
Exit set, compact:
a motorized head,
A end-of-fill sensor,
a motorcycle-reducer
Fixing the spire to the engine facilitated by an anti-twisting system (also present on the foot of the screw). It is mounted on rolling and maintains coil tension.
The benefits of the system:
Install flexibility in any type of building
Suitable for flours, granules, crumbled (depending on diameter)
Respects inputs and avoids deshuffling
Pairing several flexible screws and transporting them by possible intermediate systems (rigid screws, relay hoppers, distribution chain) depending on the length and configuration of the circuit.
Transportation distances:
– Soft screw – 60mm, maximum length: 85m
– Soft screw – 90mm, maximum length: 60m
Industry Contacts
Industry salesman : Benjamin Ollivier

Tel: 06 80 33 12 38
b.ollivier@toy-sa.com
Industry Project Assistant: Muriel Faucheux

Tel: 02 54 85 29 63
m.faucheux@toy-sa.com
General reception desk
Tel: '33 (0)2 54 85 01 10
Fax: '33 (0)2 54 72 60 67
info@toy-sa.com
TOY Group Montoire sur le Loir
Route des Reclusages 41800 Montoire sur le Loir